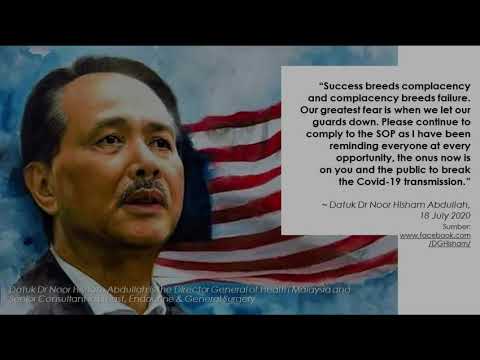 【c002】topik Karangan Wabak Covid 19【perkembangan Semasa Covid 19 】
Cikgu Dino, 23 July 2020:
"During the recent Movement Control Order period, my 11-year-old daughter predicted that COVID-19 is definitely going to be one of the hot topics for essays in all languages.
Students will then be writing from the bottom of their heart, because they have experienced it all – from confusion, to fear and anxiety; from curiosity to boredom and insecurity.
Now that the school has resumed, they are undergoing another type of change – the new normal.
Indeed, this unprecedented worldwide pandemic outbreak is life-changing. This crisis has taught us not to take things for granted - the air we breathe, the freedom we enjoy, good health, sense of security, and the list goes on. I would like to take this opportunity to share, to educate and to inform, because "in the age of information, ignorance is a choice." Donald Miller.
In this TOPIK KARANGAN : COVID-19 series, instead of MODEL ESSAYS/ CONTOH KARANGAN which restricts your creativity, do expect information on COVID-19 from various trustworthy sources.
For students who are not so familiar with Bahasa Melayu, I've translated some of the important vocabularies for you. Read, understand, and get familiarised with these terms, so that when you write about COVID-19 one day, it will not only be supported by valid facts – but also very personalised, creative and real.
Our battle against COVID-19 has not ended yet. Do stay informed, stay alert, and not be ignorant. #KitaJagaKita
Sources:
1. Facebook Datuk Dr Noor Hisham Abdullah
facebook.com/DGHisham
2. kpkesihatan.wordpress.com/
3. Facebook Kementerian Kesihatan Malaysia
facebook.com/kementeriankesihatanmalaysia/
Credits:
1. Rocket Launch Animation Powerpoint Template: Powerpoint School youtube.com/channel/UCngkX2grzKhYBx1stz08Z3Q
2. Background Music: Bensound
bensound.com
3. Screen Recording: Bandicam
bandicam.com