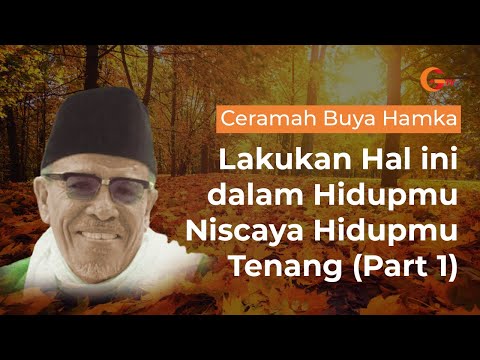 Rahasia Hidup Tenang Part 1 Ceramah Buya Hamka
Rahasia hidup tenang ceramah Buya Hamka ini adalah ceramah Buya Hamka tentang rahasia hidup tenang. Buya Hamka menjelaskan rahasia hidup tenang berupa hal-hal dalam kehidupan sehari-hari yang perlu dilakukan agar hidup tenang.
Tonton video part 2 di sini
youtube.com/watch?v=xcbPkjeFROg
Prof. DR. H. Abdul Malik Karim Amrullah dikenal dengan Buya Hamka (1908 – 1981) adalah seorang ulama dan sastrawan Indonesia. Ia melewatkan waktunya sebagai wartawan, penulis, pengajar dan terjun ke politik melalui Masyumi dan aktif dalam Muhammadiyah sampai akhir hayatnya. Beliau adalah Ketua Majelis Ulama Indonesia (MUI) pertama. Namanya disematkan untuk Universitas Hamka milik Muhammadiyah dan masuk dalam daftar Pahlawan Nasional Indonesia.
Buya Hamka melahirkan 84 judul buku. Di Bawah Lindungan Ka'bah, Tenggelamnya Kapal Van Der Wijck, dan Merantau ke Deli melambungkan nama Hamka sebagai sastrawan. Tafsir al-Azhar menjadi karya fenomenalnya.
Hampir semua karyanya sudah diterbitkan oleh Gema Insani Publishing dan dapat dibeli melalui website Gema Insani Official atau CS Gema Insani.
---------------------------------------------------------------------------
Prof. DR. H. Abdul Malik Karim Amrullah known as Buya Hamka (1908 – 1981) was an Indonesian scholar and writer. He spent his time as a journalist, writer, lecturer, and entered politics through Masyumi, and was active in Muhammadiyah until the end of his life. He was the first Chairman of the Indonesian Ulama Council (MUI). His name was pinned for Muhammadiyah's University (University of Hamka) and was included in the list of Indonesian National Heroes.
Buya Hamka wrote 84 book titles. The book The Under the Protection of the Kaaba, The Sinking of the Van Der Wijck, and Go to Deli catapulted Hamka's name as a writer. Tafsir al-Azhar became his phenomenal work. Almost all of his works have been published by Gema Insani Publishing.
---------------------------------------------------------------------------
gemainsani.co.id/
blog.gemainsani.co.id/
gemainsanidigital.id/
Follow us:
Gema Insani Official
instagram.com/gemainsaniofficial/
Gema Insani Digital
instagram.com/gemainsanidigital/
Insani Kids
instagram.com/insanikids/
Al-Qur'an Al-Huda
instagram.com/quranalhuda/