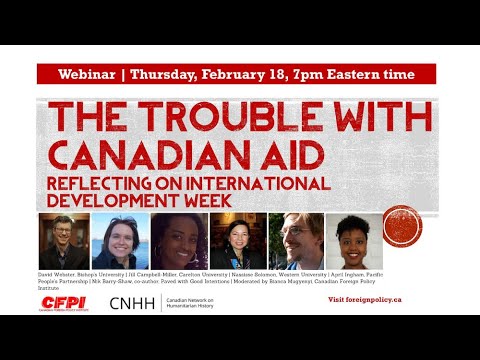 Viralkan ❗ Tentang Masalah Hibah Dan Warisan Tanya Jawab Ustadz Abdul Somad Terbaru 2021
Each year, Canada celebrates International Development Week. We need to look behind the headlines to the history and pattern of Canada's official development assistance and ask how effective Canada's aid has been, historically and today. In this event, five speakers from diverse perspectives reflect on Canadian aid in the wake of International Development Week 2021.
Jill Campbell-Miller of Carleton University speaks about how the narrative of Canada as a "Samaritan state" and how the history presents us with a much richer and more interesting story of Canadian and international history.
Nassisse Solomon of Western University revisits the Ethiopian famine relief efforts of the 1980s, a foundational moment in Canada's aid history, at a time when Ethiopia is once again facing humanitarian challenges.
April Ingham, director of the Pacific People's Partnership, speaks to the challenges of small non-governmental organizations in Canada.
Nik Barry-Shaw, co-author of Paved with Good Intentions, shares information how Canadian aid and NGOs have sometimes caused troubles overseas, including in Haiti.
Moderated by Bianca Mugyenyi, Canadian Foreign Policy Institute